Final Program

Wednesday, May 15, 2013

10:00 am - 12:00 pm
Pre-Forum Workshop for Utility and Government Attendees Only
Session Co-Chairs: Paul Reid, Azusa Light and Water and Mary Medeiros McEnroe, Silicon Valley Power
Informal discussion on topics to include Social Media and Electric Vehicles

12:00 pm – 1:00 pm
Lunch Buffet

1:00 pm – 2:30 pm
Welcoming Remarks
Mary Medeiros McEnroe, Silicon Valley Power and acting Utility Energy Forum, Inc. President

Opening Keynote Presentation
Roadmap to 2020: Strengthening Customer Relationships with Energy Efficiency Services




Janice Berman -

Candid discussion of the opportunities and pitfalls in the road ahead to 2020 from her vantage point from years of experience in implementation of electricity and gas energy efficiency programs as well as renewable energy initiatives, including greenhouse gas emissions and peak load reduction as program drivers.
Ms. Berman is responsible for providing strategic leadership of PG&E's Energy Efficiency portfolio. Prior to her current position, she held numerous regulatory, financial and operational positions at PG&E, including Director of Customer Generation, Director of Rates and Tariffs, Director of Revenue Requirements, Director of Business Development, and Director of Gas System Operations. Ms. Berman earned a Bachelors degree in Mathematics from Whitman College, and has a Masters degree in Operations Research from Stanford University and an MBA from the Haas School of Business at U.C. Berkeley. She joined PG&E in 1987 as an engineer working on the development of new power plants, and quickly became interested in integrating resource planning for power plants, demand-side resources, and transmission and distribution issues.
2:30 pm - 3:00 pm
Refreshment Break with Energy Quiz hosted by Efficiency Services Group and Ruralite
3:00 pm – 4:30 pm
Policy/Strategic View
Session Co-Chairs: Bruce Ceniceros, Sacramento Municipal Utility District and David Maul
4:30 pm – 5:30 pm
Expo Snapshots
Session Co-Chairs: Ed Thomas, Utility Energy Forum and Dennis Guido, Staples & Associates
Presentations
Every organization represented in the Expo area will have up to 3 minutes for a mini-presentation that includes:
Background on

company and product/service offering

E

xample of an activity where your company partners with a Western U.S. regional utility or government agency

Example of an activity where your company partners with a utility or government agency ANYWHERE in the U.S. or the world
5:30 p.m.
Adjourn
5:30 am – 6:30 pm
Reception hosted by Synergy Companies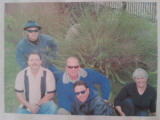 6:30 pm –8:00 pm
Dinner, Music and Campfire hosted by RHA
A full-course dinner with wine followed by music from the Rock Bottom Band and a Campfire with s'mores and hot adult beverages.
Thursday, May 16, 2013
7:30 am - 8:30 am
Breakfast Buffet
8:30 am – 10:00 am
Customer View
Session Co-Chairs: Vanessa Lara, Merced Irrigation District and Janis Erickson
Commercial Perspective


Ray Agah - Presentation, Save Mart Supermarkets
EECBG in Sacramento: Success Stories and Lessons Learned
Erik de Kok - Presentation, Ascent Environmental
Synergy Contractor/Utility Experience
David Price - Presentation
Bruce's Wholehouse Retrofit
Bruce Ceniceros - Presentation
My Lead Platinum Home
David Maul - Presentation
Whole House Retrofit
Ed Thomas & Tiger Adolf
10:00 am – 10:30 am
Refreshment Break with Energy Quiz hosted by Efficiency Services Group and Ruralite
10:30 am – 12:00 pm
Customer View (continued)
12:00 pm – 1:00 pm
Lunch
1:00 pm – 2:00 pm
Keynote Presentation
Why Don't Customers Do What I Want Them To, Even if I Talk Really Loud?
William LeBlanc - Presentation, Senior Advisor, E Source
While technology has long been the focus of efficiency and renewables programs, our coming challenge will be to shift that focus squarely on the customer. However, customers tend to be irrational, easily distracted, and suspicious creatures. But through better marketing, and using the power of social norms and behavior change science, we can embrace these customer challenges and use them to boost efficiency and renewables success…and have some fun along the way.
Bill LeBlanc is a recognized leader in energy efficiency programs, with particular expertise in program design, marketing, market research, new product development, and strategy. He assists utility clients in understanding their customer markets, providing tools and messages to sway customer demand, and creating overall market strategies. He has been a leader and innovator in energy efficiency and load management throughout his 20 year career, working for PG&E, EPRI, E Source, and consulting firms.
Energy Quiz hosted by Efficiency Services Group and Ruralite
2:00 pm – 3:30 pm
Utility Program Snapshots
Session Chairs: Mary Medeiros McEnroe, Silicon Valley Power and Sabrina Barber, Imperial Irrigation District
3:30 pm – 5:00 pm
Utility Program Stand-Up Challenge with Ice Cream Social Session
Co-Chairs: Bob Hondeville, Modesto Irrigation District and Elaine Hebert
Join us for the craziest round of concurrent sessions ever! Imagine speed dating meets the lightning round of a TV game show! You choose from storyboards detailing utility-sponsored program initiatives or projects. Each storyboard presenter has 5 minutes to share with you the program's successes and lessons learned. A bell rings, you choose another storyboard, and the 5-minute clock starts again.
5:30 pm – 6:30 pm
Reception hosted by Resource Solutions Group
6:30 pm – 6:45 pm
2nd Annual Stand-Up Challenge Awards Ceremony
Special recognition hosted by Bill LeBlanc, E Source
6:45 pm
Dinner with "Any Port in a Storm" hosted by Staples & Associates
A full-course dinner followed by port wine tasting and the classic rock acoustic guitar stylings and singing of Kip Yager. Kip Yager, originally from upstate New York, has been playing solo on his 6 & 12 string acoustic guitars in the Tahoe Basin for the last 4 years. Previously, he lived in Colorado for 10 years. His repertoire includes: Beatles, James Taylor, Cat Stevens, Moody Blues, CSNY, and a little bit of country, blues and originals inspired by the Rocky Mountain's laidback life style. Kip's passion for music is his way of connecting with the ones who grew up in the 60's & 70's.
Friday, May 17, 2013
7:30 am - 8:30 am
Breakfast Buffet
8:30 am – 11:00 am
Energy Quiz hosted by Efficiency Services Group and Ruralite
Technology View
Session Chairs: Graham Parker, Pacific Northwest National Laboratory and Elaine Hebert
11:00 pm
Late-Breaking News
This session held in reserve for presentation on an emerging issue
12:00 pm
Adjourn
12:00 pm – 1:00 pm
Lunch Buffet
---
© 2009-2013 Utility Energy Forum