2009 Final Agenda with Presentation Links
Click here to view Conference Program
Wednesday, May 6, 2009
10:00 am - 12:00 pm -- Pre-Forum Workshop for Utility and Government Attendees Only:
Public-Private Utilities: Common Challenges
Co-Moderators: Joyce Kinnear, City of Palo Alto, and John Hargrove, NV Energy
Facilitated discussion (rather than presentations) on topics to include:
Overcoming Program Silos
Gaining Management Support and Funding
Reaching beyond the low-hanging fruit
Mandate Challenges with David Reynolds, Northern California Power Authority
Integrating Low-Income, Moderate Income and CARE/FERA initiatives with Francis Thompson, Pacific Gas and Electric Company
How utilities can satisfy the Energy Commission's reporting requirements with Kae Lewis, California Energy Commission
12:00 pm – 1:00 pm -- Lunch Buffet included in registration fee
1:00 pm – 2:00 pm Welcome Keynote Presentation

Duane Larson, Director, Pacific Gas and Electric Company
2009-2011 Demand Side Management Program Portfolio
Progress Report on the design and implementation of Pacific Gas and Electric Company's 2009-2011 Demand Side Management Program Portfolio.
Duane Larson is the Director of the United States largest portfolio of energy efficiency programs at Pacific Gas and Electric Company. He has spent twenty- eight years doing energy efficiency at PG&E as an Energy Auditor, Program Manager, Supervisor, Manager, and Director. Duane is a former member of the National Fenestration Rating Council's Board of Directors, a member of the Appliance Standards Awareness Project, and currently serves on the Board of Directors for both the TopTen USA and Home Energy magazine.
2:00 pm – 3:00 pm -- Utility Challenge: What Should We Do Next?
Moderator, Rob Penney, Senior Energy Engineer, Washington State University Energy Program
Panel presentation of representatives from energy-related organizations are challenged to tell attendees the 5 top things that utilities should do to address energy efficiency and renewable energy issues
3:00 pm – 3:30 pm -- Refreshment Break
3:30 pm – 4:30 pm -- Panel Presentation Continues
4:30 pm - 5:00 pm -- Meet the Sponsors and Exhibitors
5:00 pm -- Adjourn
5:30 pm – 6:30 pm -- Reception included in the registration fee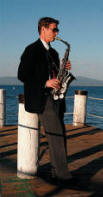 6:30 pm -- Dinner and Dancing hosted by RHA, Inc.
A full-course dinner followed by soothing musical entertainment from the Remmel Jazz Trio.
Baron von Remmel has the distinction of being Lake Tahoe's very own Jazz Saxophonist, with a golden alto sound reminiscent of the late Paul Desmond, of Dave Brubeck's group. As a 27 year resident of the west shore of Lake Tahoe, CA., he is a familiar figure, not only as a performer, but also as a jazz educator, in the music classroom of North Tahoe High School, and as a private instructor. He has performed with Abbe Lane, Billy Preston, The Coasters, Larry Collins, The Drifters, The Temptations, Little Anthony & the Imperials, BJ Thomas, Harry Blackstone, Wayne Newton, and the Atlanta Rhythm Section. Baron von Remmel has opened concerts for Bill Cosby and The Yellowjackets, and performs may styles of music from classic jazz artists such as Paul Desmond, Stan Getz, and Duke Ellington, to smooth jazz artists such as Kenny G, Grover Washington, Jr, Spyro Gyra and Richard Elliot.
Thursday, May 7, 2009
8:30 am – 9:00 am -- Meet the Sponsors and Exhibitors
9:00 am – 10:00 am -- The Customer View
Moderator: Janis Erickson, Sacramento Municipal Utility District
Panelists:
10:00 am – 10:30 am -- Refreshment Break
10:30 am – 11:30 am -- The Customer View Panel (continued)
11:30 am – 12:00 pm -- Meet the Sponsors and Exhibitors
12:00 pm – 1:00 pm -- Lunch included in registration fee
1:00 am – 1:30 pm -- Midway Keynote Presentation

Alice Perez, Sacramento Municipal Utility District
Sacramento Municipal Utility District's Compact with the Customer initiative to enhance both the customer understanding of and experiences with their electric utility, and help direct the activity of all employees.
Alice Perez is responsible for overseeing SMUD's Customer Business Unit's strategic direction which includes market research, program development and planning process, new business initiatives, operations planning, implementing technology initiatives and the financial performance of the Business Unit. She also oversees the design, administration and interpretation of the District's electric rates. Prior to this role Alice Perez was responsible for all of SMUD's residential programs, products and services to over 500,000 residential customers.
1:30 pm – 3:30 pm -- Utility Program Snapshots
Moderator: Jim Brands, Efficiency Services Group and Sandee Peebles, Western Area Power Administration
Panel discussion of innovative program practices and lessons learned
Sustainability and Utility-Government Customer Perspective - Jenna Olsen, Senior Manager, Government Partnerships and Third Party Programs, Customer Energy Efficiency Department, Pacific Gas and Electric Company
Community Environmental Action Partnership - Wendy

Hediger

, City of Palo Alto
Tax Bill Financing - Alice La Pierre, Building Scientist, City of Berkeley Office of Energy & Sustainable Development
3:30 pm – 4:00 pm -- Refreshment Break
4:00 pm – 5:30 pm -- Utility Program Poster Sessions
Session: Chair: Michael Jaramillo, Imperial Irrigation District
Utility and government representatives are invited to submit a brief descriptive of an innovative utility-sponsored energy efficiency or renewable energy program. The Planning Committee will select 5 – 10 of the program submissions to be presented during a poster session.
Commercial Clothes Washer Savings Measurement and Verification
Graham Parker, CEM, BEP ; Senior Staff Engineer, Pacific Northwest National Laboratory
Results of a measurement and verification study for four California investor-owned utilities. Battelle undertook metering of 120 commercial washers at 12 multifamily properties within the service territories of the utilities. Baseline energy and water end-use metering of existing washers was followed with placement and metering of the high-efficiency (ENERGY STAR) washers. The results of the field evaluation were positive with natural gas savings of over 60 therms/year/washer and water savings in excess of 17,000 gallons/year/washer.

Transforming the Commercial Window Glazing Market
Jim Benney, CAE; Executive Director, National Fenestration Rating Council
This year, the National Fenestration Rating Council will introduce its Component Modeling Approach (CMA) for rating and labeling the energy performance of fenestration systems in commercial applications. CMA will help to bring the benefits of fair, accurate and credible ratings to the nonresidential sector of the industry.

Utility Green Pricing Programs: Lessons Learned from the Nation's Top Programs
Beth DeLashmutt-Poore, Utility Partnership Associate, 3 Degrees
3Degrees partners with utilities nationwide (including City of Palo Alto Utilities, Silicon Valley Power, and Roseville Electric) in the marketing of their voluntary green pricing programs. This poster presents lessons learned from these top performers, including common pitfalls to avoid and which program design and marketing approaches work best.

Introduction to Geothermal Heat Pump Systems
Guy Nelson, Utility Geothermal Workshop Group
Geothermal heat pumps are more efficient than air-source heat pumps and air conditioners, using approximately 25 to 50 percent less energy. The systems use the relatively constant temperature of the ground and ground water to provide heating and cooling. Geothermal heat pumps can be used in commercial and residential buildings. This poster session will detail average capital and operating costs for Geothermal Heat Pumps.

Commercial Building Energy Benchmarking in California
Douglas Mahone, Principal/Executive Officer, Heschong Mahone Group
California state law requires utilities to make commercial customer billing data available in electronic form for benchmarking purposes. It also requires (starting January, 2010) benchmarking data to be disclosed as part of all commercial real estate transactions. Benchmarking gives building owners a standardized tool for comparing their building's energy performance to similar buildings, which is increasingly important to both owners and tenants. Benchmarking also provides a way to track energy use improvements over time. This poster will report on progress in California toward making benchmarking universal for commercial buildings.

Small Wind Electric Systems: New Business Opportunities
Gary Hoffmann, Western Area Power Administration
Overview of technological innovations and market drivers that are making grid-connected small wind power more practical.

NV Energy: Leaders in Efficiency. We will do anything to move CFLs
Bobby Robertson, Strategic Account Manager, ecos
Since 2003, NV Energy's Residential ENERGY STAR Lighting Program has provided rebates for more than 7.5 million CFLs to save more than 460 million annual kWh. The program has increased from providing rebates for 110,000 CFLs in 2005 to over 3.4 million CFLs in 2008. Whether it's providing CFLs for local gamblers at casinos as part of their casino loyalty programs or our "Bulbs for Blood" campaign with United Blood Services, NV Energy aggressively promotes CFLs to every market segment that they service. This program received the 2008 Excellence in ENERGY STAR Promotion award for "Change A Light, Change the World" Campaign Outreach in recognition of these types of cutting edge activities to promote energy-efficient lighting in the residential sector.
5:30 pm – 6:30 pm -- Reception included in the registration fee
6:30 pm -- Dinner and "Any Port in a Storm" hosted by Apogee Interactive
A full-course Dinner followed by port wine tasting and the classic rock acoustic guitar stylings and singing of Kip Yager
Kip Yager, originally from upstate New York, has been playing solo on his 6 & 12 string acoustic guitars in the Tahoe Basin for the last 2 years. Previously, he lived in Colorado for 10 years, playing venues along the Front Range and the Western slopes at many of the ski resorts. His repertoire includes: Beatles, James Taylor, Cat Stevens, Moody Blues, CSNY, and a little bit of country, blues and originals inspired by the Rocky Mountains laidback life style. Kip's passion for music is his way of connecting with the ones who grew up in the 60's & 70's. Kip has touched many souls through his music and hopes you will enjoy it also. Peace & Love.
Friday, May 8, 2009
8:30 am – 10:30 am Emerging Technologies Panel
Moderator: David Maul, Maul Energy Advisors
Panel discussion of emerging technologies for the short-term and long-range planning
10:30 am – 11:00 am -- Refreshment Break
11:00 am – 12:00 pm -- Late-Breaking News on the Stimulus Package
Pat Perez, Assistant Executive Director, Economic Stimulus Program, California Energy Commission
This spot on the agenda is reserved for emerging issues related to federal initiatives such as the American Recovery and Reinvestment Act.
12:00 pm -- Adjourn
12:00 pm – 1:00 pm -- Lunch Buffet included in the registration fee
---
© 2008 Utility Energy Forum