2009 Utility Energy Forum Floor Plan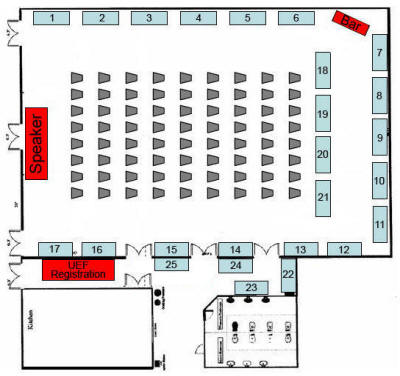 Exhibitor: $1550
One table-top or pop-up exhibit space
One attendee registration with standard room accommodations
Logo, web link and 50-word description with full contact information on UEF web site
Pre- and post-conference attendee registration lists in electronic form
Online Booth Reservation
Exhibitor Descriptions

Apogee Interactive, Inc. is the leading provider of self-service Web applications that drive sustainable behavioral change among utility consumers. Superior analytics coupled with engaging Web presentation provide actionable steps for customers, encourage greater participation in utility programs and generate automated reports for tracking results. From online to onsite energy audits and analyzers to fully integrated billing analysis and metering applications, Apogee's online solutions deliver impeccable energy analysis and engaging customer experiences.

Beutler Corporation is the largest heating and air conditioning company in the United States with three locations throughout Northern California. For over 60 years, Beutler has set the standard as an innovative industry leader that has developed several patented products and comfort solutions to benefit their customers. Serving 300,000 customers in Northern California from Chico to Stockton, the Central Valley and East Bay, Beutler offers products that are energy efficient, environmentally focused and support new green technology.

California Lighting Technology Center's (CLTC) mission is to stimulate, facilitate and accelerate the development and commercialization of energy efficient lighting and daylighting technologies. This is accomplished through facilitating technology development and demonstrations, as well as offering outreach and education activities in partnership with utilities, lighting manufacturers, end users, builders, designers, researchers, academicians and governmental agencies. The concept of the CLTC was developed through a collaborative effort between the California Energy Commission, the US Department of Energy, the National Electrical Manufacturers Association, and University of California, Davis to advance energy efficient lighting and daylighting technologies.

Climate Master is the leading manufacturer of water source heat pumps and geothermal heat pumps for commercial, industrial and residential applications, which are considered to be the most energy efficient and environmentally friendly type of air conditioning and heating products available on the market today. Climate Master GeoThermal Heat Pumps has been and remains the best total space conditioning alternative using a renewable energy resource for good demand side management.

Electric & Gas Industries Association (EGIA) is a non-profit organization dedicated to advancing energy efficiency and renewable energy solutions through a nationwide network of over 2,500 contractors, distributors, manufacturers and utility partners. EGIA provides utility companies, water agencies and state organizations with individually targeted or broad regional rebate program administration, energy efficiency & solar financing, contractor network management, retailer field services, contractor and channel partner training, and home energy makeover contest administration. Additionally, EGIA through its subsidiary, UtilityExchange.org produces activities where utilities, allied organizations and contractors learn and network regarding best practices in energy efficiency, renewable energy, customer services, enhanced business operations and sales and marketing.

Enovative Group is an energy services company that specializes in energy efficient domestic hot water delivery. Enovative has experience doing research on hot water delivery systems in commercial buildings such as multifamily buildings and hotels and has successfully implemented D'MAND® controlled hot water delivery systems in hundreds of multifamily buildings in southern California saving hundreds of thousands of therms and kwh through a program called On-Demand Efficiency. D'MAND® controls is one of the easiest ways to lower both natural gas and electricity consumption for a building's domestic hot water system.

The National Fenestration Rating Council (NFRC) is a nonprofit public-interest organization that provides energy rating information on windows, doors, skylights and curtain walls systems. In addition to publishing consensus standards for determining fenestration ratings, NFRC also administers an independent certification and labeling program to assure product performance.

Niagara Conservation, headquartered in Cedar Knolls, New Jersey with satellite offices around the world, is the only company in the world that manufactures efficiency products and administers turnkey programs. Niagara Conservation features an extensive product line of conservation hardware, supplemented by complete programming solutions and services for water, electric and gas utilities, as well as state and local government agencies.

Organizational Support Services is a turnkey resource for incentive programs, event management and sales promotions serving corporate America from our base in Southern California. We have been in the energy services business since 1990 and have achieved exceptional program results for our energy services clients. We offer the most complete, dynamic and professional suite of services in the industry.

Pacific Gas and Electric Company is one of the largest combination natural gas and electric utilities in the United States. The company, a subsidiary of PG&E Corporation, serves approximately 15 million people in northern and central California. Pacific Gas and Electric Company is committed to the environment, from clean-air vehicles to the redwood forests.

Resource Action Programs® (RAP) designs and implements community programs to reduce residential water and energy use. RAP programs combine unique participant-driven educational materials, kits of high efficiency products and comprehensive implementation services that include data tracking for municipalities, utilities, government agencies, and community action agencies. Participants are equipped with the tools and products to enact the lessons learned making our approach to education truly 'hands-on' for a larger, longer lasting impact.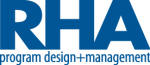 Since 1979, RHA has lead public outreach programs with innovative techniques focused on mainstream and hard-to-reach audiences. A program design and management firm, RHA serves as a prime contractor to federal, state and private sector clients. Its corporate capabilities reach and impact target publics in the energy arena. A minority-owned company with six California offices and over 250 employees, RHA has managed programs serving more than 13 million people and has achieved energy savings of approximately 57,351,000 kWh in 2007.

Rheem Marathon Water Heaters is a manufacturer of non-metallic, lifetime warranty, thermal-storage electric water heaters with the highest efficiency ratings in the industry. Marathon has active programs with over 250 distribution and G&T cooperatives across the country.

Staples Energy Marketing & Services (SEMS) specializes in developing and implementing customized marketing and education programs in the fields of energy and environmental awareness. SEMS also conducts the direct installation of energy efficiency measures including lighting and water conservation equipment, energy audits and weatherization.

Synergy Companies' Energy Management Division serves the investor-owned utilities community (PG&E, SCE, SCG and SDG&E), as well as other municipal and local power companies. Synergy is a fully qualified contractor who works with you and your utility company to provide cost effective energy efficiency measures to residential and non-residential markets, and works to create energy-efficient homes, offices, commercial properties and a more secure energy future for California and the Nation.

Western Area Power Administration markets and delivers reliable, cost-based hydroelectric power and related services within a 15-state region of the central and western U.S. We're one of four power marketing administrations within the U.S. Department of Energy whose role is to market and transmit electricity from multi-use water projects. Our transmission system carries electricity from 57 power plants operated by the Bureau of Reclamation, U.S. Army Corps of Engineers and the International Boundary and Water Commission. Together, these plants have an installed capacity of 10,395 MW.

U.S. Department of Energy (DOE) Energy Efficiency and Renewable Energy (EERE)
Wind and Hydropower Technologies Program is working with wind industry partners to develop clean, domestic, innovative wind energy technologies that can compete with conventional fuel sources. DOE's Wind Energy Program efforts have culminated in some of the industry's leading products today and have contributed to record-breaking industry growth.
Geothermal Technologies Program (GTP) conducts research, development and demonstration projects to establish Enhanced Geothermal Systems (EGS) as a major contributor for electricity generation. The key decision point for EGS demonstrations is whether these systems can be shown to be technically feasible by 2015. GTP works in partnership with industry, academia, and DOE's national laboratories to establish geothermal energy as an economically competitive contributor to the U.S. energy supply.
Industrial Technologies Program leads the national drive to reduce energy intensity and carbon emissions by changing the way industry uses energy. ITP sponsors cost-share R&D, and supports the use of today's advanced technologies and energy management best practices.
---
© 2008 Utility Energy Forum